On-demand CSV data exports & subscriptions
On-demand CSV data exports
On-demand CSV exports based on historical market data API that allow exporting tick-by-tick order book snapshots and updates, trades, funding, open interest info and more.

Subscriptions
In addition to existing one-off purchase based API access to specific time periods of historical market data, subscriptions plans are available now as well.
Subscriptions plans include full available back history if billed yearly, 6 months if billed quarterly, 2 months if billed monthly.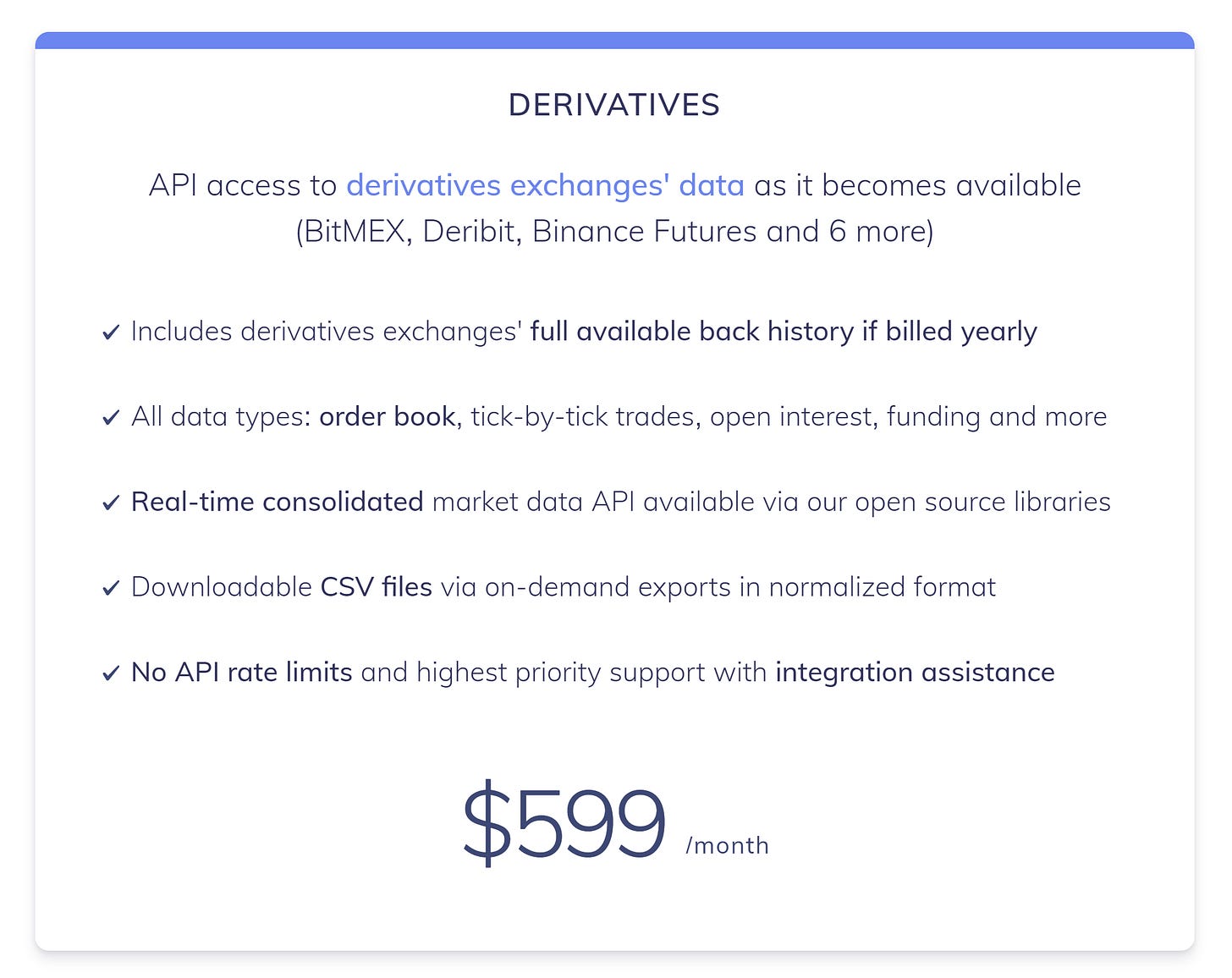 New exchanges

In last few months we've added support for:
Binance Futures

Huobi Global/DM/US

Binance US

Bybit

OKCoin

and HitBTC
which makes well over 20 supported exchanges in total and provides practically full derivatives markets coverage.
We're now storing over 40MB of compressed raw market data every minute, ~56GB ever day, ~20TB every year.


Normalized market data support
Both Node.js client and locally runnable tardis-machine server were updated to provide client-side support for market data normalization, local book state reconstruction, custom book snapshots and trade bars computation as well as real-time market data streaming. Real-time data streaming that that connects directly to exchanges' WebSocket APIs, provides normalized and consolidated API and is completely free —  no vendor lock-in, no increased latency due to streaming data through 3rd party API.
Python support for normalized data is coming soon, together with new client libraries in other languages.
HTTP API performance improvements
Based on the existing usage patterns of the API, we've introduced smarter caching support that drastically decreases worst case scenarios where cache is 'cold' and together with faster servers substantially improves overall response times.